Fagagna's cheese soufflè with artichoke cream
Ingredienti
300 gr Mezzano
100 gr of butter
100 gr of 00 flour
6 eggs
1 l of fresh milk
salt
pepper
nutmeg
1 spoon of minced shallot
2 spoons of extra virgin olive oil
300 gr of artichoke hearts
vegetable stock
100 gr of flakes of Fagagna's 18 months aged Latteria cheese
Preparazione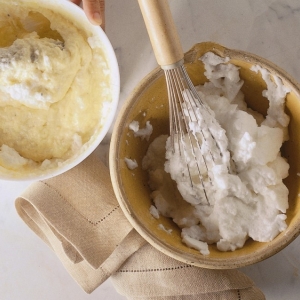 For the soufflè
Prepare the bechamel with butter, flour and milk, add grated cheese and leave to cool. Always stiring, add the egg yolks. Sift the mixture and leave it to rest, then mix the egg's whites beated until stiff and pour the mixture in 6 buttered cutters. Bake in a waterbath for 20 minutes at 180°C.
For the artichoke cream
Sti-fry the shallot in oil, add artichoke segments, add seasoning and let it cook for 1 hours on low heat adding somtimes some vegetable stock. Drain the artichokes, blend and add the cooked stock until it reachs a good density. Cook apart entire bottoms of artichokes and fill them with the cream. Serve the soufflè as entrèe garnished with the cream, the artichoke hearts and the flakes of cheese, all must be extra hot.
---